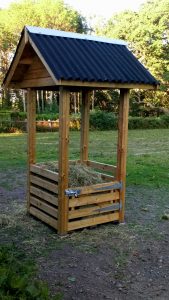 For years I have used a small metal round bale holder to feed hay ad lib to my horses when the grass was scarce.
However, a lot of hay got wasted in wet weather. I started looking for covers for round bale hay holders and came across a hay feeder similar to this one on a Ranch in the US.
I gave a photo to Mark Thompson at Levade Systems in East Sussex and asked if he could make me one.
He did! This one is just one metre square and is ideal for a bale at a time.
It's extremely solid and horrendously heavy. We had to use round fence posts underneath it to roll it into position. Because it's so heavy if the horses rub up against it it isn't going anywhere. The quality is amazing, it even has a door so that you can get in there and clean it out when necessary.
As we also have miniature British ponies and a miniature Shetland Mark made one side lower than the others so they can get to the hay. It works really well and the horses and ponies love it!