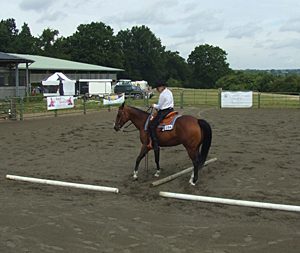 Western Riding in the UK has a large following.
The camaraderie among riders is legendary.
So much fun is had on a day out together in the saddle.
We are a registered charity dedicated to promoting the Quarter Horse in the UK. We maintain the Breed Registry for the UK, as well as holding events and shows around the country and much more.  Please join us in celebrating this beautiful equine breed.

National
Western Equestrian Society
Western Riding For All
The Western Equestrian Society (WES) was formed in 1985 to promote the discipline of Western Riding to the standard as practised in the United States.
South East

Fallowbrook Western Riding Club
The largest western riding club in the South East
The Club exists to provide access to great amenities and a friendly learning environment with experienced coaching in all western disciplines.​
Your friendly meeting place, specifically geared to western riders for you to ride, practice and learn at your leisure.

Oakridge
Western
Riding Club

Nottinghamshire

Oakridge Western Riding Club

Our aim is to provide fun, regular western events that are affordable and accessible to all. We hold clinics, fun shows and social events to enable western enthusiasts to share their passion for western and improve their riding skills.

British Reining Horse Association

The UK governing body for the sport of reining.